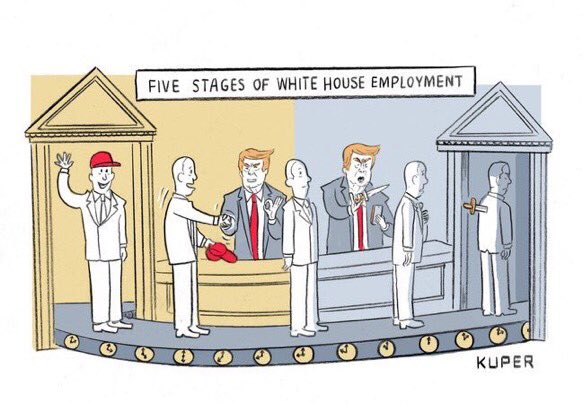 When Roger Stone came out against Bannon, I knew:
He's out.
It's not official yet -- although the hammer may drop as I write -- but the exit sign is flashing, and even Drudge is predicting an
adios
.
Update:
Yes,
the NYT published the story
even as I was writing these words...
Stephen K. Bannon, the embattled chief strategist who helped President Trump win the 2016 election but clashed for months with other senior West Wing advisers, is leaving his post, a White House spokeswoman announced Friday.

"White House Chief of Staff John Kelly and Steve Bannon have mutually agreed today would be Steve's last day," the White House press secretary, Sarah Huckabee Sanders, said in a statement. "We are grateful for his service and wish him the best."
In other words, Kelly made the decision -- probably while listening to Trump rant and rave the other day.
I love
this bit
from Axios:
One White House source twists the knife: "His departure may seem turbulent in the media, but inside it will be very smooth. He has no projects or responsibilities to hand off."
More:
One senior White House official said it seemed like Bannon was setting himself up to be a martyr — the nationalist hero fired by the "globalists."
Of course, there IS no "globalist" (read: Jewish) conspiracy against Bannon. Bannon is going because things are going bad and
someone
must be fired. Neither Trump nor Kelly can admit that Trump is the problem.
Bannon has felt freed this past week and has told friends that he is ready to go "medieval" on enemies of Trump and his populist agenda both in and out of the White House.
"Get ready for Bannon the barbarian."
Joy Reid has
tweeted
:
Hearing from a source that Bannon is going ugly. Stay tuned...
The obvious question, as asked by one of her readers: How much uglier can that guy
get
? I think the important consideration is that Trump, if he has to have any hope of lasting a full term, must eschew nationalism and become more of a conventional Republican -- but if he does move in that direction, Bannon will turn the Pepe people against the administration. That's no doubt the reason why, until now, it was thought safer to keep Bannon on the inside.
Sorry, Steve -- but if you're going to stage a "revolt against the modern world" (to borrow Evola's term), the White House is not the place.

Remember, remember...
From the
Palmer Report
(with all due caveats):
Way back in December of 2016, longtime Republican strategist Rick Wilson – who has stood loudly against Donald Trump from the start – posted a cryptic prediction on Twitter in Guy Fawkes style: "Remember, remember, The 8th of November, 'Twas Putin, and treason and plot; I see no reason Why pro-Russian treason Should ever be forgot." At the time it didn't seem to refer to anything in particular. But this evening Wilson quoted his own poem and added "Just wanted to re-up this. You'll know why in about two weeks." (link). So what the heck is he referring to with this new message?
Color me skeptical. Wilson first came to my attention just before the election, when he promised a "bonkers" revelation that would destroy Trump. What we got instead was a bonkers last-minute
smear
against Hillary, claiming that she had been raided by the cops.
Added note: Doing the "I was not a Nazi" polka.
Gotta love
Jerrod Kuhn of NY
, who joined the marchers in Charlottesville, and whose life is now being made much more difficult...
"I'm not a neo-Nazi," he insisted. "I don't belong to a German workers' party from 1933. I'm a moderate Republican."
"I never worked at zat camp! I am SWISS, I tell you! SWISS!!!"
Kuhn was filmed marching around with a bunch of torch-wielding would-be bullyboys chanting "Blood and soil." They yelled insults at Jews who were trying to hold a worship service. Kuhn's digital trail reveals that he enjoys hanging out with the "moderate Republicans" at the Daily Stormer.
Sometimes I wonder how Hitler would have defended himself, had he gone to trial at Nuremberg. "Adolf
who?
My name is Wally."
Permalink